Filter by Category
Adult Basic Education
Online Registration Unavailable
Adult Basic Education (ABE) English

Current session started Sep 6, 2022

, runs for 15 weeks
Whether pursuing a diploma or just "brushing up" on English related skills, this class has something for you. Practice your reading comprehension skills and enhance your writing. Review the parts of speech or prepare for college entrance exams. This course provides individualized and small group instruction in grammar, reading, and spelling. You can learn without embarrassment.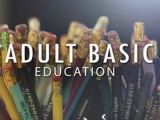 Online Registration Unavailable
Adult Basic Education (ABE) Math

Current session started Sep 6, 2022

, runs for 15 weeks
Receive supplemental practice along with alternate explanations in order to understand a variety of mathematical topics at a deeper level. Work independently or with peers to complete assigned tasks and improve skills.