Filter by Subcategory
Personal Enrichment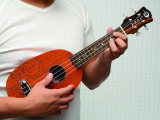 Ukulele for Beginners - Spring 2018
with Duncan Perry

May 8, 2018 at 6 pm

, runs for 4 weeks
The ukulele is a versatile, go anywhere instrument that is fun to play! Learn folk music, rock, blues, pop, country, music grandma knows and more. Learn basic chord positions, strums and picking styles using familiar songs. This class is for those who have never learned to play a stringed instrument with little or no knowledge of music theory. Duncan will be glad to share information about how and where you can buy the best ukulele for you. All music will be provided.
Required: A soprano, concert, or tenor size ukulele (no baritone ukes, please) and an electronic tuner. Bring along a loose-leaf notebook, pencil and eraser, a highlighter and a music stand, if you have one.
Duncan Perry, a ukulele player for seven years, regularly entertains at hospices, nursing homes, libraries & kids venues. He is a member of the Falmouth Library Ukulele Society that added a touch of Hawaii to the PSOs 2014 Magic of Christmas programs!
Will run
You Should Be a Stand-Up Comic - Spring 2018
with Stephen Cloutier & Dennis Fogg

Apr 25, 2018 at 6 pm

, runs for 9 weeks
How many times have your friends said that you are so funny that you should be sharing your sense of humor on stage? But the thought of doing stand-up comedy is scary right? Let our stand-up comedy class take the scary out of going on stage our comics. Stephen Cloutier and Dennis Fogg will teach you basic usable tools for creating your own well received comedy routine. There will be a real comedy show at the end of the final class where your friends and family can attend. All levels welcome.
Zippy & More Bags - Spring 2018
with Terri Laverriere

May 12, 2018 at 12 pm

, runs for 1 week
These bags can be used for cosmetics or a night out. They range from small to large. This class can be for any level of sewing. Also, learn how to place zippers. These bags make wonderful gifts. Please call 282-3883 for a supply list.